To whom does the Law Foundation report? When are these reports made?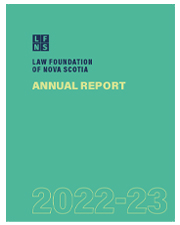 The Foundation submits an Annual Report, including audited financial statements, to the Minister of Justice and the Nova Scotia Barristers' Society. The Annual Report is presented to the Barristers' Society at its Annual Meeting, and to the Minister of Justice within three months of the end of each fiscal year.
Our annual reports are saved in Adobe Acrobat PDF format. To download a free copy of Adobe Acrobat reader, visit adobe.com. Select from the links below to access the annual reports in PDF format.