Stories from Grantees of the Law Foundation Of Nova Scotia 
ANTIGONISH WOMEN'S RESOURCE CENTRE
Justice Matters for Women extends the services of the Antigonish Women's Resource Center and Sexual Assault Services Association (AWRCSASA) to adolescent girls and women living in rural communities of Antigonish and Guysborough County. We provide law-related information and resources to  and support women and adolescent girls in making informed decisions. The Justice Matters for Women program is of particular importance to women of Guysborough County as only two lawyers practice law within this large geographical area. Some women have no choice but to seek legal services outside the county; this can be difficult as there is no public transportation service. One example is this story.
The Justice Matters for Women outreach support worker responded to a request for support from a woman living in a rural community of Guysborough county who had experienced a violent crime. In the immediate  aftermath of this violent crime she experienced extreme stress in her attempts to report the crime to both local and regional RCMP officials.  Throughout the investigation process the women was re-traumatized by what she characterized as negative and accusatory statements. This negative experience significantly impacted the woman's ability to navigate the justice system and access services in her community. The outreach worker started by "believing" and from that stance provided emotional and financial support, referred her to trauma therapy, provided court accompaniment and accessed resources that met her needs. The Justice Matters for Women program provided a service that generated resilience, hope and support for this woman.
For more information go to awrcsasa.ca
COVERDALE COURTWORK SERVICES
In 2017, Coverdale experienced major and impactful changes that affirm our commitment to fiscal responsibility and focus on the strength and viability of our organization. We are  located at 6169 Quinpool Road, Suite 203, Halifax, a central location that houses a number of not-for-profit organizations. Centrally located, and easily accessible, it is a great location to best serve our clients.
At Coverdale change is part of everything we do. Our programs and services exist to help women and girls address the challenges that place them at risk and help them move towards brighter futures. This same commitment to positive transition is also at the core of how we operate as an organization; evolving existing programs to better support our clients and creating new and innovative programs where there are unmet needs. We sincerely thank the Law Foundation for their on-going support and recognition of the work that we do….it is truly appreciated!
For more information go to www.coverdale.ca
ELIZABETH FRY MAINLAND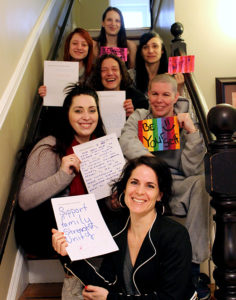 In 2017-2018 the Elizabeth Fry Society of Mainland Nova Scotia engineered a realignment of priorities, staffing, and organizational structure. In order to better serve the needs of our clients and the mandate of our organization we developed three core priorities:
•  housing,
•  programming, and
•  prison law advocacy, navigation and triage.
As well, in 2018-2019 we partnered with Elizabeth Fry Cape Breton in a special project to reach out  even further with a Prison Law Project.
For more information go to efrymns.ca
EDUCATIONAL PROGRAMS INNOVATIONS CHARITY (EPIC) SOCIETY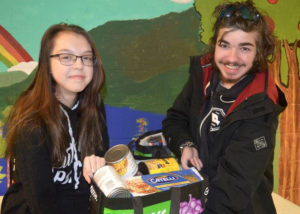 EPIC, on behalf of United Way Cape Breton Youth Committee and supported by NS Culture Communities & Heritage, oversees delivery of 200 Youth Employability Workshops for marginalized youth ages 13-18 across Cape Breton Regional Municipality (CBRM).  Social skill-building sessions, conducted in partnership with Eskasoni School Board, YMCA, and United Way, dovetail with EPIC's Youth Peer and Tutor-Mentor Outreach programs serving high-risk youth in Sydney, Glace Bay, Sydney Mines, and New Waterford.
For more information go to www.epiccharity.com
INDIGENOUS BLACKS AND MI'KMAQ INITIATIVE (I B & M)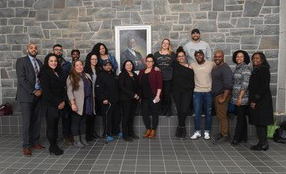 In 2019-2020, the IB&M Initiative will celebrate its 30th anniversary! It is an initiative designed to increase the representation of Indigenous Blacks & Mi'kmaq people in the legal profession. In 2018, the IB&M Initiative applauded the permanent installation of the late Dr. Burnley "Rocky" Jones portrait at the Schulich School of Law, Dalhousie University, Halifax. Mr. Jones was a founder of the IB&M Initiative, one of its first graduates, and valedictorian of his class. A cherished leader in the African Nova Scotian community and beyond, his portrait serves as an inspiration to the law school community.
Also see the Dalhousie news story.
For more information go to https://www.dal.ca › Schulich School of Law
LEAVE OUT VIOLENCE (LOVE)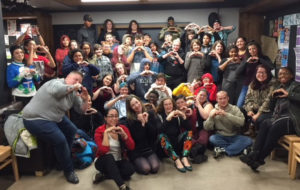 At LOVE, youth who have experienced violence are trained to become educators about the root causes, effects & alternatives to violent behavior. Below are a couple of quotes from 2017-2018 mid-year evaluations, by youth involved in our entry-level Media Arts Program:
"I look forward to coming to LOVE because I feel like it promotes honest and positivity in my life, which allows me to be happy, more mentally healthy, and honestly less stressed."
"I come because I can express my opinion and it's like an escape from reality where nobody judges you, you can be yourself, and everyone is so caring/loving. It means a lot as I try to cope with my feelings and emotional pain. I look forward to coming and it is a commitment that I can keep."
"I come for friendship, and help with issues I can't deal with on my own."
For more information go to https://novascotia.leaveoutviolence.org/
LEGAL INFORMATION SOCIETY OF NOVA SCOTIA (LISNS)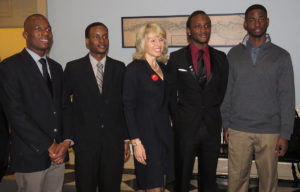 WILLS APP
In 2018,  LISNS formally launched the Wills App – the first of its kind in Canada – to help people prepare for making a will. LISNS has been making presentations to various groups including at locations in Shelburne, Bridgewater, Truro, Bedford where sessions were filled with waiting lists. The Wills App (wills.legalinfo.org) was developed by a dynamite IT team from Saint Mary's University who volunteered 2 years of their time – not only for development but also for its pilot implementation, evaluation and full-scale implementation.  This is a sophisticated app which is a considerable accomplishment. This work was profiled by the Halifax Chamber of Commerce, Business Voice (May 2017 edition) and is the subject of CBC radio interviews.
Wills Clinics for Seniors in the Preston Communities: As of March 2018, clinics resumed, supported by volunteer students at the Law School Wills Project using the LISNS wills app and working under the supervision of the Project's volunteer lawyers.
YOUTH AND THE LAW
On May 2, 2018, LISNS held its first law day at Citadel High School where drama students performed skits written by LISNS for a capacity crowd of over 300 students at the Spatz Theatre.  It was very successful and there are plans possibly to roll it out to all high schools in the Province.  The content combines information to enhance youth financial and legal literacy and to help youth get ready for the decisions they will be making in their lives.  This includes a youth app for financial preparation a youth guide to complement the materials.
WEBSITE AND LEGAL REFERRAL
LISNS gratefully received project funding (2017-19) from the Law Foundation of Nova Scotia for modernization of its website and legal information referral services. Through this project LISNS has successfully:
launched a new mobile friendly website to respond to the increasing number of visitors accessing the site using mobile devices;
provided LiveChat available through the website, and;
are now offering greater capacity serving clients via e-mail inquiries.
SMALL CLAIMS COURT APP
LISNS successfully launched the first in Canada, Small Claims Court App, developed entirely with volunteer assistance including IT student expertise (SMU), paralegals, lawyers, and political science students.  LISN's work was the subject of a television interview on Global News Morning Halifax (November 7, 2017), talking about the Small Claims app and pilot project; and profiled in the Lawyer's Daily, "New app helps self-represented NS litigants navigate Small Claims Court" November 29 2017, both available online .
The app provides clarity and easy-to-understand legal information for self-represented individuals during often stressful and in sometimes complex situations. LISNS Executive Director Heather de Berdt Romilly explains, "Research shows that when clearly explained legal information is accessible at an early stage it helps address potential litigation problem areas in a significant majority of cases."
The app, available on the LISNS website (smallclaims.legalinfo.org), is the result of many individuals and organizations collaborating in the spirit of access to justice. The Small Claims Court Adjudicators, LISNS, Saint Mary's University and Dalhousie University have all played significant roles in bringing this LISNS initiative to launch.  Gavin Giles, Q.C., the Chief Adjudicator of the Small Claims Court, recognized a need to better assist the many self-represented individuals and reached out to LISNS for its expertise and assistance. With contributions from Adjudicators Eric Slone and W. Augustus Richardson, LISNS turned to Saint Mary's University Computer Science Graduate Kislay Trivedi to develop the app.
IWK FAMILY LEGAL HEALTH PROGRAM
Since October 2017 medical social workers receive legal information on behalf of patients/families on-site at the IWK Health Centre twice a month (first and third Tuesday 1-3 pm), for the IWK Family Legal Health Program (one of a very few medical legal partnerships east of Montreal).
For more information go to https://www.legalinfo.org/
MAINLINE NEEDLE EXCHANGE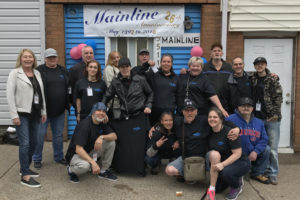 Mainline provides a legal education program for drug users & service providers, as well as legal assistance for drug users in court and correctional institutions.
With funding received from the Law Foundation of Nova Scotia for the "Community Based Legal Support & Education Project", project staff supported and helped a client receive a conditional sentence due to his involvement in Mainline's peer navigator project, greatly improving the client's future. This client had spent multiple years incarcerated, and has a longstanding history of involvement with police, justice and the courts. Mainline staff has lived experience and the organization has incorporated "Nothing About Us Without Us" principles into our daily programming and services.
Mainline plays a critical and essential role in reducing risks and improving the health of people who use drugs (PWUD) in Nova Scotia. Extensive evidence from the past 25 years has demonstrated the successes and benefits of a harm reduction approach in terms of reducing transmission of disease. Despite common perceptions, harm reduction does a great deal more than just meet immediate needs to help people use drugs more safely. The formal and informal connections that are facilitated by a safe, non-judgmental approach also help individuals to access addictions treatment, as well as necessary health and social services. Furthermore, efforts of harm reduction organizations are critical in chipping away at the stigma of drug use and poverty, providing safe spaces to seek help and support, as well as increasing connections between this very marginalized population and the broader community.
For more information go to mainlineneedleexchange.ca/
REACHABILITY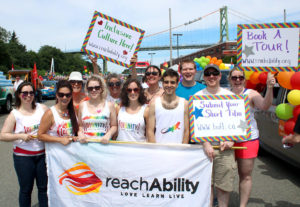 reachAbility provides access to legal services & plain language information for persons with disabilities across Nova Scotia. reachAbility writes:
"With the ongoing support of the Law Foundation of Nova Scotia, reachAbility is able to provide one on one and group legal sessions for people with disabilities. We are removing the stigma, one legal issue at a time!"
For more information please visit www.reachability.org