Stories from Grantees of the Law Foundation Of Nova Scotia 
ACCESS TO JUSTICE AND LAW REFORM INSTITUTE OF NOVA SCOTIA
2020-2021 brought many new beginnings to the Law Reform Institute. We began advisory group sessions on parentage legislation in Nova Scotia, started our issues paper on the Testator's Family Maintenance Act, began our project on trauma-informed justice and domestic violence in Nova Scotia, started surveying issues facing self-represented litigants in Atlantic Canada, re-introduced the Law Reform Class to the law school and rejoined the Uniform Law Conference of Canada as a delegate for Nova Scotia.
Our many wonderful students – volunteers and researchers alike – have poured their time and focus into these projects and have shown incredible resilience and diligence in these trying and uncertain times. We are so grateful and really could not do our work without them.
Check out our A2J Directory for Nova Scotia!
For more information go to lawreform.ns.ca
---
ANTIGONISH WOMEN'S RESOURCE CENTRE
With the generous support of the Law Foundation of NS, the Justice Matters for Women outreach program in Guysborough County continued to provide essential support to women and their families throughout the pandemic. This included accompanying and serving as a testimonial aid for women seeking justice through the courts, and supporting women fleeing intimate partner violence. In one case, the Outreach Worker's advocacy was instrumental in securing the financial resources for a family leaving violence to find safe and secure housing after months of being precariously housed. In the context of the COVID-19 restrictions, the services and supports offered by the Outreach Worker were more necessary and important than ever. As women cope with the interconnected challenges of social isolation, financial insecurity, navigating government systems to access benefits, and increased family tensions and risk of gender based violence, the option to have support available in-community has been invaluable.
For more information go to awrcsasa.ca
---
AVALON SEXUAL ASSAULT CENTRE
Funding from the Law Foundation of Nova Scotia has helped to support Avalon Centre in adapting our community and legal education programming for online delivery during the Global pandemic; this has allowed us to continue offering support to organizations, service providers, and survivors, and will have long- standing positive impacts on capacity building moving forward.
Avalon wishes to share a resource that they created: it is a "virtual healing room." When doing training or workshops in the community, they like to ensure there is a space to decompress and have some resources on hand for people to take a break/take care of themselves in the moment, have some strategies and resources to take with them afterwards, and also to share with clients they are working with. That has become a bit more challenging in the new online world, so they created this link that includes resources for different stress reduction strategies. They have been sharing the link in online trainings and workshops, and it is also being shared with clients.
Avalon greatly appreciates the support of the Law Foundation of Nova Scotia. Many thanks for investing in Avalon's programs for survivors! 
For more information go to avaloncentre.ca
---
CONCILIO PRISON MINISTRY
"Many positive stories result from the St. Luke's Renewal Centre helping prisoners practice personal and life skills to improve their lives and to provide a positive vision for their lives. This program is only possible through the support of the Law Foundation of Nova Scotia." – Clarence DeSchiffart, Board Chair, Concilio Prison Ministry
---
COVERDALE COURTWORK SERVICES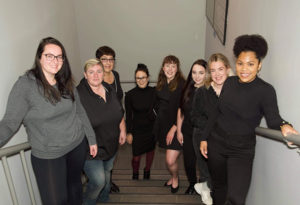 This past year has both illuminated and widened the access to justice crisis in Nova Scotia, which overwhelmingly impacts our most vulnerable and marginalized community members. Due to the pandemic, this year has been unlike any other for our society. As the needs of our service users have both shifted and increased, so have our responses. As access to the courts, prisons and jails became restricted, we were forced to adapt our services and address the tremendous impacts that these restrictions had on those in conflict with the law. Through collaborative initiatives with community agencies, justice system stakeholders and legal professionals, Coverdale has been able to deliver court support, bail support, advocacy support and programming to over 300 women, trans, non-binary and two-spirit individuals.
The Law Foundation of Nova Scotia provided project funding to Coverdale to launch a pilot project aimed at providing court support and navigation services to women and gender diverse people navigating the family court system. This pilot was immensely successful, and responded to a very concerning and identifiable gap in access to justice for victims and survivors of violence, mothers involved with child protection and those navigating both criminal and family courts. Throughout the year we have been able to develop a framework, including best practices, which will help to guide our next steps as we seek to secure and expand the project.
Ashley Avery, Executive Director, Coverdale Courtwork Society
For more information go to www.coverdale.ca
---
DALHOUSIE LEGAL AID
The mission of Dalhousie Legal Aid Service includes providing legal aid services for persons who otherwise would not be able to obtain legal advice or assistance. Our ability to conduct research, provide information, make recommendations, and engage in programs relating to legal aid and law reform in the Province of Nova Scotia would not be possible without the support of the Law Foundation of Nova Scotia. The legal education and experience for students enrolled in the Schulich School of Law at Dalhousie University has been described as exceptional. This combined with providing community legal education for front line community groups, organizations, and their clientele, is all part of the work that we do daily here at the "Clinic". The Law Foundation funding allows us to continue these projects and develop new ones. Essentially, without the assistance of the Law Foundation, we would not be able to make our mission possible!
For more information go to dal.ca/faculty/law/dlas/about-dalhousie-legal-aid
---
EAST COAST ENVIRONMENTAL LAW
Thank you to the Law Foundation of Nova Scotia for helping ECE LAW provide access to justice for Nova Scotians experiencing environmental injustice, including many marginalized and racialized communities. The East Coast Environmental Law Summary Series gives concerned individuals, community groups, and organizations easy-to-understand information about environmental laws and regulatory processes throughout Atlantic Canada. The latest volume of our Summary Series is a guide to public engagement in aquaculture processes in Nova Scotia. You can access the volume at the link below.
Joint Submissions on the Proposed Federal Aquaculture Act
Did you know that the Government of Canada is developing a federal Aquaculture Act to create a new legal regime for aquaculture facilities? Together with a number of concerned organizations across the country, East Coast Environmental Law has been engaging in the process and raising serious concerns about the industry-driven mandate reflected in the Act. You can read ECE LAW's recent submissions to Fisheries and Oceans Canada and Minister Bernadette Jordan by following the links.
For more information go to www.ecelaw.ca
---
ELIZABETH FRY MAINLAND and ELIZABETH FRY CAPE BRETON
"Funding from the Law Foundation has provided the Elizabeth Fry Society of Cape Breton the financial stability to assist criminalized women island-wide in specialized courts, and to offer a wide range of services and outreach making a positive impact on the lives of so many marginalized individuals."
Darlene MacEachern, Executive Director and Julie Kendall, Associate Executive Director, The Elizabeth Fry Society of Cape Breton
"The Elizabeth Fry Society of Nova Scotia (EFMNS) is grateful for the support provided by the Law Foundation of Nova Scotia. EFMNS is devoted to alleviating poverty for vulnerable women and girls in our province through comprehensive housing support, innovative programming initiatives, justice system reform, and through building women's individual capacities to develop positive relationships with their communities. Our three core priorities are 1) housing, 2) programming, and 3) prison law advocacy, navigation and triage."
Emma Halpern, Executive Director, The Elizabeth Fry Society Mainland Nova Scotia
For more information go to efrymns.ca and efrycb.com
---
EDUCATIONAL PROGRAMS INNOVATIONS CHARITY (EPIC) SOCIETY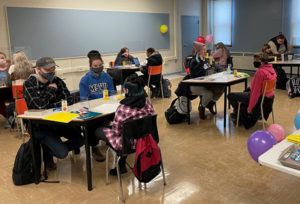 The Law Foundation of Nova Scotia continues to be EPIC's largest and longest source of support to promote ongoing social adaptation and academic advancement in high-risk CBRM youth. This has enabled EPIC to slowly expand the Youth Peer Program, sustaining referrals from 19 different schools and 12 community agencies even in pandemic times.
Youth Peer in Sydney operates daily transporting kids from a wide area, provides weekly tutor-mentor services in Glace Bay, New Waterford, and Northside, and delivers Youth Peer Online to the 20% of youth who can no longer be safely accommodated in person. The program is transformative for youth participants and deeply gratifying to youth volunteers.
The caregiver of a middle school student told Youth Peer staff that his grandson was known at school mostly for conflicts. He was amazed that when his grandson had to go online to attend Youth Peer, he reports that, "he got mature and kind to the younger kids and more helpful at home."
For more information go to www.epiccharity.com
---
FAMILY SERVICE OF WESTERN NOVA SCOTIA PROJECT
Thank you to the Law Foundation of Nova Scotia for grant support for a Wellness Court Legal Navigator to assist so many participants in their processes.
De-identified Case Synopsis:
"Frank" and his partner had been together for over 15 years and within the last 5 years they began to grow apart. Frank's partner became unwell, leading him to assume the often-stressful role of primary caregiver, which led to him to feel less like a partner. They began to argue during this time, with one escalated incident that resulted in police involvement. However, they had previously shared with the navigator that this was not a reflection of the relationship they wanted together. Frank described the incident as a "bit of a wakeup call".
As a result of this conflict with the law, he undertook a lot of self- reflection, engaging in heavy and difficult work with the clinical team. Together, Frank and his partner chose to rekindle their relationship and became "comfortable around one another again". He shared, "for the first time in a long time we were connecting as partners and enjoying one another''.
One morning, shortly after the passing of Frank's wife, the Legal Wellness Court Navigator received a phone call sharing his devastating news. As they reminisced about his wife he spoke about reflection and stated that as he made his morning coffee, he felt the need to call and share his feelings about the last few months with his wife. He wanted the Wellness Court Team, and all those who made this opportunity possible, to know that they were central to the peace he felt during this period of extreme grief.
Frank shared that the process of proceeding through Wellness Court had given him the opportunity he needed to be present in his relationship and have one last wonderful year with his wife before she passed. He wanted our team and funders to know how grateful he was for the opportunity to participate in Wellness Court and that often in court he felt he didn't "show his gratitude to everyone: lawyers, judges and staff" due to the complexities of feelings surrounding being in conflict with the law.
He asked that we share his story so folks could "know how impactful and important this Wellness Court is", and how different it was from his initial police & traditional court interactions.
"This has been amazing. It has been a blessing and the support I received taught me a lot." – Participant during their graduation
"Our Wellness Court is thriving." – Lawyer
"Therapy helped a lot and communication with my wife as well as others has improved. No more bottling things up!" – Participant acknowledging the impact the Program had on their family
"I have never recommended an Absolute Discharge" keenly stated a Crown Attorney after positively recommending his second Absolute Discharge of the day for two successful Wellness Court participants.
"The Virtual Education sessions are so awesome, I sent the "Decolonization is for Everyone" information to my supervisor so she could circulate it to our whole staff team." – Justice Staff Member included in the Virtual Education series
"Wellness Court allows us, the service providers, the opportunity to collaborate with the participants in the Wellness Court Program, working towards repairing harm in our community. It allows for a more restorative approach. It has been my observation that clients who participate in the program are more invested in themselves as they work through the process. Some Wellness Court participants have made significant positive changes – it's great to see! Hearing participants express how supported they feel, along with positive changes they have experienced, is wonderful. Having a Wellness Court Navigator allows service providers to come together as a team and work in conjunction with the participants in a way that has proven beneficial for the people we serve." – Correctional Services Team Member
For more information go to fsawns.com or follow us at @FSAWNS
---
HALIFAX REFUGEE CLINIC
COVID-19 has had a disproportionately negative impact on clients of the Halifax Refugee Clinic, refugee claimants and non-status migrants, who are already a marginalized group. When the global pandemic
hit, The HRC team quickly responded, providing outreach to clients, distributing grocery store gift cards and offering settlement and legal support remotely and with new protocols in place. We are proud to have adapted to continue to offer our essential services during this time and are in admiration at the strength, resilience and leadership that our clients have shown throughout this year.
In June 2020, The Halifax Refugee Clinic was the recipient of the 2020 ISANS Award, which recognizes an individual, community group, business or employer who has demonstrated exceptional and innovative efforts in welcoming immigrants to Nova Scotia and in assisting them to successfully integrate into the community.
The HRC was also among 20 incredible individuals and organizations to receive a Bhayana Family Foundation Invisible Champion Award, which recognizes the extraordinary contributions made by non-profit organizations, their staff, and volunteers across Nova Scotia.
We are overjoyed to welcome Gabriella Utreras Sandoval, Immigration and Refugee Lawyer, to the legal team here at the HRC in late 2020. Her expertise and commitment to refugee rights has been a true gift. Recently some clients who were granted refugee status wrote this to us when they received the decision: "I am glad that this year started this way for me. More successful things yet to come for me down the road! I am also thankful and grateful for all the hard work that was done in your clinic… Millions of thanks would not express my gratitude to all of you for your support. God bless you all!".
The Halifax Refugee Clinic celebrated its 20th anniversary in 2020! We wish to thank the vital support provided by the Law Foundation of Nova Scotia for helping to make our outcomes possible and being able to provide free legal, settlement and advocacy support to refugee claimants and non-status migrants in Nova Scotia.
For more information go to halifaxrefugeeclinic.org
---
INDIGENOUS BLACKS AND MI'KMAQ INITIATIVE (I B & M)                                                      
The IB&M Initiative is grateful for the grant support provided by the Law Foundation of Nova Scotia. It is an initiative designed to increase the representation of Indigenous Blacks & Mi'kmaq people in the legal profession. The IB&M Initiative continues to work to increase the representation of indigenous black and Mi'kmaq individuals in the legal profession through education at the Schulich School of Law at Dalhousie University.
For more information go to https://www.dal.ca › Schulich School of Law
---
KINGS COUNTY SENIORS SAFETY SOCIETY
The Kings County Senior Safety Society Program appreciates grant funding from the Law Foundation in order to help seniors avoid crime, improve their safety and understand legal issues as they affect seniors. Here is a photo for social media to create broad awareness among the community of WEAAD.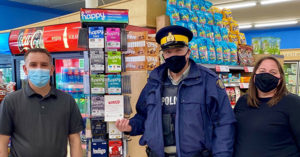 The photo above was shared by the Kings Seniors' Safety Society, The Wolfville Fire Department and the Nova Scotia RCMP on social media sites and reached over 10,000 people helping to increase awareness.
The Society worked with the provincial Department of Seniors to develop a provincial flyer disseminated across the province on senior abuse with particular attention paid to the dangers of social isolation in abusive situations given COVID 19.
We launched the Scam Alter campaign in March of 2021 to raise awareness of scams involving google play, iTunes cards, etc. The campaign reaches out to businesses who provide such cards to their customers, making them aware of the potential scam. A sign is provided (along with resources for staff) to display near the display of these cards at their business. This project was initiated by Kings Seniors' Safety, and partnered with the Nova Scotia RCMP. This initiative was shared with provincial counterparts and has spread across the province.
---
LEAVE OUT VIOLENCE (LOVE)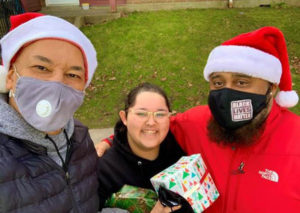 At LOVE, youth who have experienced violence are trained to become educators about the root causes, effects & alternatives to violent behavior. Below is a testimonial:
"Support from the Law Foundation of Nova Scotia has been highly valuable to LOVE Nova Scotia's programs with 24/7 on-call support. We are thankful for the Foundation's ongoing belief in our work."
The Law Foundation of Nova Scotia funds the Succeed & Proceed program, or one-on- one work with youth, and these youth are always included in our holiday deliveries every year. In December 2020, LOVE made over 75 personalized deliveries of turkey dinners, gifts, and grocery gift cards to youth involved in our programs.
For more information go to lovenovascotia.ca
---
LEGAL INFORMATION SOCIETY OF NOVA SCOTIA (LISNS)                        
Thanks to the support of the Law Foundation of Nova Scotia, the Legal Information Society of Nova Scotia was well positioned to move to 100% remote work when the pandemic struck and we have continue to deliver all of our services without interruption. Demand for our services has increased as the pandemic has brought a whole host of new legal issues while the old ones remain and the inquiries are more complicated.
The Law Foundation support contributed to LISNS having critical pandemic planning tools available to support Nova Scotians as the pandemic struck. Our timing with the launch of the Personal Directive App provided an important public service and pandemic planning tool with people not being able to have someone accompany them if going to hospital. Healthcare providers have told us how helpful this planning is for their work particularly during the pandemic. LISNS' Personal Directive App and information was the most visited part of our website during the initial pandemic closure period. We have continued to experience significant traffic and we know that people are downloading the hard copy form in addition to using the app which creates a finished document.
The partnerships we had put in place pre-pandemic with the Seniors' Safety Coordinators and the Retired Teachers' Organization NS have served us well. The NSLF support of our navigator work directly resulted in LISNS securing federal funding as a pandemic response for our Seniors' Navigator Project where we are connecting community volunteers to help a person with using the app by phone. Both of these groups piloted our online navigator training to high praise and they are assisting us in the promotion of the dual pronged initiative – encouraging people to make personal directives and to participate as volunteer navigators.
Having the strong support of these partners and NSLF is impactful. Each time we have undertaken specific public promotion via LISNS' social media and media interviews we have tended to experience a 349.5% increase in views and a 23% increase in completions of the PD App. Recently we reached over 12,000 contacts promoting the PD planning including the Federation of Labour, CUPE to all of its members and universities and community colleges to students age 19 and older.
Recent feedback from a LISNS stakeholder survey conducted in November 2020 indicates that the number one support being requested is more navigator programs. We are pleased to be able to build on the success of our navigator programs for small claims court (award winning and only possible due to support from NSLF) and personal directive planning. We will be launching a wills app this month which makes a finished will with navigator training and then a power of attorney app in May with navigator training. Both the will and power of attorney are critical pandemic planning tools and we know these will continue to be in demand as per our experience with the personal directive.
LISNS has continued to support its Medical Legal Health Partnerships with the IWK and VG Palliative Care through the pandemic along free wills clinics for disadvantaged seniors and families in the Preston Communities. We have also worked with 32 Dal Law Pro Bono students (our largest cohort ever) on a broad range of issues including the production of handbooks to assist visually impaired Nova Scotians through a partnership with CNIB and this unfunded work has only been possible due to the support of the NSLF.
We have moved to deliver legal information sessions on highly requested topics through webinars that are targeted to stakeholder groups thereby building on our family legal information sessions for front line community service workers and broadening the support that is available to the public. These webinars have had high attendance with demand for further sessions. LISNS has also continued to produce podcasts on a variety of requested topics,
from family law to investor protection, to provide Nova Scotians with more options for accessing legal information. In this way LISNS has been ahead of the curve in anticipating public demand as research now indicates that podcasts are one of the most effective means to connect with people. Again, we could not be doing this work without the support of the NSLF. And LISNS has been sought out as an expert resource by CBC over the year to provide radio interviews on varied subjects including the personal directive app and seniors' navigator program, family law issues during the pandemic, investor protection for young adults in relation to scams, and support of victims of sexual harassment through LISNS Free Legal Advice Service.
The high quality of LISNS work has received recognition through project funding and this is only possible due to the core funding support of NSLF. New projects include Supporting Trans, Non- Binary and Gender Diverse Communities: a Guide for Employers and Service Providers and Elder-Abuse Awareness & Prevention along with the launch of our Investor Protection Guide, Bystander Training for addressing Sexual Harassment in the Workplace and content updating in support of the new Divorce Act provisions coming into effect later this year. In this way LISNS can continue to help Nova Scotians at an early point with their legal issues and avoid expensive costly and stressful legal processes that often result in greater cost to individuals, society and Government.
For more information go to www.legalinfo.org
---
LUNENBURG COUNTY SENIORS SAFTEY SOCIETY PROGRAM (LCSSP)
The Health & Safety measures associated with the pandemic certainly limited the scope of presentations we were able to do for our community and for our partners. It required a quick pivot to an online format and we were able to adapt well.
The Law Foundation of Nova Scotia grant had a very positive impact for the direct service component of the Lunenburg County Seniors' Safety Program clients. With additional staffing time and technology funded through the grant, we were able to assist seniors without access to computer, internet or technological familiarity, to complete online forms & applications and access legal information to support them. Our enhanced knowledge and expertise will continue to resonate and enrich the services we provide to our seniors.
Thank you again to the Law Foundation of NS for this most generous support. The LFNS grant provided LCSSP with funding to support our Seniors' Legal Navigator project. This allowed us to reach out to more seniors and help them to better understand legal issues and to access available resources pertaining to their needs. Our program was able to purchase technology to help seniors without computer, internet or the technological familiarity, to access and complete online applications and legal information in the comfort of their own home. With the current pandemic, access to technology with assistance has been paramount. Seniors feel more empowered and safer using technology in the company of the Seniors' Legal Navigator. Thanks to this grant, the LCSSP team have enhanced knowledge and expertise that will continue to resonate and enrich our future services.
For more information please visit facebook.com/lunenburgseniorssafety
---
MAINLINE NEEDLE EXCHANGE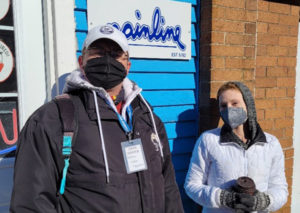 We are so grateful for the support from the Law Foundation which allows us to provide much-needed assistance and advocacy for so many individuals who have lived or living experience of drug use as well as involvement with the civil and criminal justice systems. Most of the people we support face numerous barriers to accessing supportive services, accurate information, and critical referrals. In addition, our staff are able to provide information, support and encouragement in a comfortable and non-judgmental manner, ensuring that the supports provided meet the needs of the clients we serve. The project continues to meet its intended goals: to increase knowledge and life skills; to provide access to legal information and education; to provide a continuity of care and support for individuals who are involved with the criminal and civil justice system; to help individuals to make informed decisions about their legal issues; to make lifestyle choices leading to improved well- being; to provide support for clients to secure safe and affordable housing, income assistance and/or addiction treatment; to provide support for individuals to achieve success in the community and reduce recidivism. Thank you for your continued support of this community-based legal support & education project; it is invaluable to the clients we serve.
There are so many heroes at Mainline! Thomas is a PALS (Peers Assisting and Lending Support) person with Direction 180, and Melody is with Mainline peer program. Mainline partners with the PALS project every Monday and provide court support at the SGR court house. This has been such a possible and important partnership for the people we help during this time. Mainline thanks the Law Foundation of Nova Scotia that allows us to offer this support for people involved with the criminal justice system.
Despite the COVID-19 pandemic, project staff continue to attend court to support individuals every week. However, public health restrictions have meant they are not able to enter the building, so all communication takes place outside the courthouse. Project staff also provide additional supportive services as requested by individuals, including letters, advocacy, referrals and other needs. The project continues to partner with many community and government stakeholders in HRM and throughout the province in order to provide supportive services for individuals that are involved with the criminal and civil justice system. In the past year many individuals were released early from corrections facilities due to the pandemic, and project staff from Mainline were pleased to be able to offer them supports immediately upon release thanks to the support from the Law Foundation and in partnership with Direction 180's PALS program.
For more information go to mainlineneedleexchange.ca/
---
NOVA SCOTIA LEGAL AID                                                                      
The Law Foundation of Nova Scotia's funding of Nova Scotia Legal Aid's two pilot projects – the Social Justice Support Worker in Cape Breton and the provincial African Nova Scotian Social Worker program – provided a mechanism to trial new ways of delivering and improving culturally appropriate and inclusive services to our clients and developing/enhancing community connections. Both projects funded by the Law Foundation of Nova Scotia were well received by community and justice partners and illustrate the impact of what investing in justice can look like.
Social Justice Support Worker – testimonial:
Community CARES Youth Outreach is a youth development organization located in Sydney Mines, NS, serving young adults (up to age 35) and young families who face significant social and economic barriers to living their full potential. Presently we are leading an effort to transform our centre into a community hub that supports broad collaboration and outreach supports from a network of organizations.
The role of Social Justice Outreach Worker is key to the hub model as it is also rooted in social justice, and supporting those hard to reach individuals who have complex needs. To have Legal Aid support a skilled Navigator/Community educator who meets people where they are, and who reaches across an under-served community like the CBRM, is a game changer! Already, Nora has quickly built positive relationships with agencies, as well as with residents in need. Her outreach work continues to be impactful, listening deeply as those in crises share their stories, and responding quickly to diverse needs.
– Community CARES Youth Outreach Centre (Sydney Mines) Executive Director, Dorothy Halliday
Client survey response:
"Nora was amazing. She went above and beyond in helping me with my appeal, and even followed up with me afterwards, offering me any further help if I needed it. She made the process so much less intimidating too. She is excellent at what she does."
African Nova Scotian Social Worker – testimonial:
We at Barry House have been working closely with Charnell Brooks over the course of the past few months. Charnell has assisted us in supporting two of our guests in particular. Most recently, Charnell has assisted us by advocating for a guest of ours who required support from Child Protective Services in order to secure permanent housing through the Metro Regional Housing Association. Charnell's advocacy for this client was a significant contributing factor in this guest being able to make the transition from sheltered living to long-term stable housing.
– Barry House – Shift Supervisor, Taylor Armstrong:
Client survey response:
"As an educated black woman who found herself in a position that I never thought I'd be in, I truly lost all hope and for the first time felt the feeling of hopelessness. However, from mine and Charnell's initial conversation I slowly started to see the light at the end of the long tunnel. And though I'm still fighting this battle, Charnell says to me every time we speak "we'll continue to fight this battle. We got this." That's the definition of having someone in your corner who believes in you."
For more information please visit nslegalaid.ca
---
PRO BONO DALHOUSIE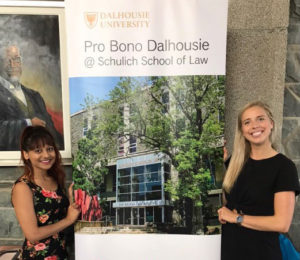 This year, despite the challenges faced by COVID-19, Pro Bono Dalhousie was still able to offer and place over 150 students across 31 different organizations throughout Halifax. We saw the resilience and adaptability of organizations and students alike, and despite the school year being drastically different, students were given the opportunity to learn and gain invaluable experience from their placements, as well as to give back to the community of which we are a part. This program would not be possible without the generous funding of the Law Foundation of Nova Scotia, and we are so grateful for the support.
For more information go to dal.ca/faculty/law/current-students/pro-bono.html
---
REACHABILITY
"reachAbility is an organization dedicated to equalizing the playing field for people facing barriers. We sincerely thank the Law Foundation of Nova Scotia for this grant, which helps to equalize the playing field for all Nova Scotians in the legal system."
For more information go to reachability.org
---
STEPPING STONE
Linda Grandy, our Court Support and Corrections worker, runs Stepping Stone's "Tipping the Scales" program funded by the Law Foundation. The program provides current and former sex workers who have come into contact with the Criminal Justice System with direct support and assistance including a legal navigation service.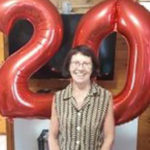 "In August of 2020, Linda Grandy hit a milestone with Stepping Stone. Linda has been working with Stepping Stone for 20 years. Linda became our court support worker in 2007, and doesn't plan on slowing down. Linda is and always has been a major asset to Stepping Stone, and we are so grateful she is part of our team. Congratulations Linda, and, here's to many more years!"
For more information go to steppingstonens.ca
---