Stories from Grantees of the Law Foundation Of Nova Scotia 
ACCESS TO JUSTICE AND LAW REFORM INSTITUTE OF NOVA SCOTIA
This year we published our Discussion Paper on the Intestate Succession Act and consulted with over 150 persons across the province on changes they would like to see to the Act. We were also able to meet with 62 service providers across Nova Scotia to discuss the access to justice challenges faced by their clients & provided research support on such diverse issues as trusted intermediaries, community land trusts, parental alienation, participation of the child in family law proceedings and online dispute resolution.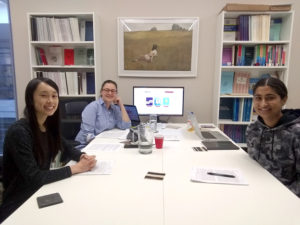 "Without support from the Law Foundation we would not have been able to expand our work program to undertake not only our law reform program, but our access to justice program, as well. Allowing us to transition our work program has helped to ensure that our research and reports remain responsive to the needs of Nova Scotians."  – Ilana Dodi Luther, Executive Director, Access to Justice & Law Reform Institute of Nova Scotia, Schulich School of Law at Dalhousie University
For more information go to lawreform.ns.ca
---
ANTIGONISH WOMEN'S RESOURCE CENTRE
We are grateful for the positive impact of the Justice Matters for Women program, made possible through the support from the Law Foundation.  We appreciate their continued support for this important work.
The generous funding provided through the Law Foundation allowed the Justice Matters for Women Outreach Support Worker to provide accompaniment, advocacy and support to a woman following her marital separation. The emotional and financial toll this took resulted in this woman filing for bankruptcy, foreclosure on her marital home, and her eventual need to apply for income assistance to supplement the loss of her partner's income.  The Outreach Worker supported this woman as she met with legal aid, attended family court, and made difficult decisions about how she and her child could move forward. With the support of the Outreach Worker this woman moved out of her rural community, was approved for the rent supplement program, and is now living in a two-bedroom apartment for eight-five dollars a month.  An important additional outcome is that she was also able to reconnect with her passion of being a foster parent.
Wyanne Sandler, Executive Director
Antigonish Women's Resource Centre & Sexual Assault Services Association
"We are grateful for the positive impact of the Justice Matters for Women program, made possible through the support from the Law Foundation. We appreciate their continued support for this important work." – Marcia Connolly, Outreach Worker, Justice Matters for Women, Antigonish Women's Resource Centre & Sexual Assault Services Association
For more information go to awrcsasa.ca
---
AVALON SEXUAL ASSAULT CENTRE
During the last year, Avalon's Legal Education, Training, and Sexualized Violence Prevention efforts reached thousands of people directly in workshops and collaborations across Nova Scotia, and many more around the world through educational and awareness building communications and campaigns. This graph illustrates all of the places in the Halifax Regional Municipality where Avalon has facilitated legal education and training over the last year.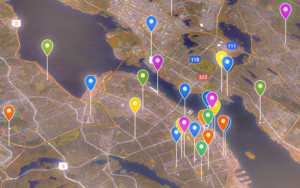 "We greatly appreciate the support of the Law Foundation of Nova Scotia. Thank you for investing in our programs for survivors! What a positive impact for them and for the wider community." – Dee Dooley, MA, Coordinator of Prevention, Intervention, and Awareness, Avalon Sexual Assault Centre
For more information go to avaloncentre.ca
---
CONCILIO PRISON MINISTRY
"Many positive stories result from the St. Luke's Renewal Centre helping prisoners practice personal and life skills to improve their lives and to provide a positive vision for their lives. This program is only possible through the support of the Law Foundation of Nova Scotia." – Clarence DeSchiffart, Board Chair, Concilio Prison Ministry
---
COVERDALE COURTWORK SERVICES
The core work of Coverdale continues to be the support of women and girls involved, or at risk of being involved in the criminal justice system. The coming year will be a period of growth, as we work alongside our community partners, stakeholders and service users, to provide the best support and the best services that can be offered, and to collectively imagine new and creative ways to support those in our community who are criminalized and experiencing marginalization– and who turn to Coverdale for help. We offer programming, prison visits, court accompaniment and resource navigation. Coverdale is able to do this thanks to the Law Foundation for their commitment to furthering access to justice by supporting our mission.
Ashley Avery, Executive Director, Coverdale Courtwork Society
For more information go to www.coverdale.ca
---
EAST COAST ENVIRONMENTAL LAW
Public legal education is a core pillar of our work, and we know that providing mentorship, training, and employment opportunities to law students plays a critical role in building more capacity for community legal support in our region. The Law Foundation of Nova Scotia assists greatly in helping law students and new legal graduates help the community in the area of environmental law.
For more information go to www.ecelaw.ca
---
ELIZABETH FRY MAINLAND and ELIZABETH FRY CAPE BRETON
"Funding from the Law Foundation has provided the Elizabeth Fry Societies of Mainland and of Cape Breton the financial stability to assist a particularly marginalized population in the pursuit of access to justice for criminalized women province wide."
Some news from the Prison Legal Advocate project:
Thanks to the generous funding of the Law Foundation, we were able to move into Stage 2 of the project in 2019-2020. This provided a staff lawyer position to provide essential legal services for incarcerated and other criminalized women in Nova Scotia. Our team helped dozens of women who would not otherwise have access to justice in the areas of family law, prison law, human rights and access to disability supports. We advocated for systemic improvements such as legislative changes and improved conditions of confinement for some of our most vulnerable members of society.
Emma Halpern, Executive Director, The Elizabeth Fry Society Mainland Nova Scotia

Darlene MacEachern, Executive Director and Julie Kendall, Associate Executive Director, The Elizabeth Fry Society of Cape Breton
For more information go to efrymns.ca and efrycb.com
---
EDUCATIONAL PROGRAMS INNOVATIONS CHARITY (EPIC) SOCIETY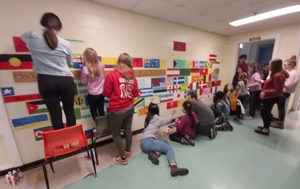 The EPIC Youth Peer art mentoring program is one way for at-risk-youth to get the help they need.
In the fall, JM was put in Alternative Education because her fear of bullying and extreme anxiety kept her from attending a regular classroom. For several Youth Peer sessions she was too terrified to join in with the group – only 1-to-1 in a quiet place with her tutor-mentor. She recently said, "this is a safe place for me and I don't have to pretend to be someone I'm not." She never misses and she participates fully every week.
Barry Waldman, volunteer Executive Director, Educational Programs Innovations (EPIC)
For more information go to www.epiccharity.com
---
THE HALIFAX REFUGEE CLINIC
"The Halifax Refugee programs and services are largely made possible through generous project funding from the Law Foundation of Nova Scotia. Thank you!"
For more information go to halifaxrefugeeclinic.org
---
INDIGENOUS BLACKS AND MI'KMAQ INITIATIVE (I B & M)                                                      
Testimonial
"For the past 30 years, the Law Foundation has supported the Indigenous Blacks & Mi'kmaq (IB&M) Initiative, an initiative to increase the representation of Indigenous Blacks & Mi'kmaq people in the legal profession. The continued support from the Law Foundation is an important partnership that has provided opportunities for Indigenous Black and Mi'kmaq students to access a legal education resulting in greater representation in the legal community.  Thank you for continuing to support the IB&M Initiative as we move forward into the next 30 years!"
We hosted a wonderful event this year – the IB&M's 30th Anniversary student and alumni celebration held in November 2019.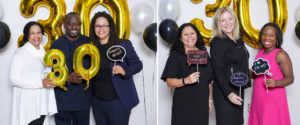 Aleta C. Cromwell, Q.C.
Acting Director, Indigenous Blacks & Mi'kmaq Initiative
Schulich School of Law, Dalhousie University
For more information go to https://www.dal.ca › Schulich School of Law
---
KINGS COUNTY SENIORS SAFETY SOCIETY
Testimonial
"The Law Foundation funding allows us to provide much needed services to seniors. Our services help seniors better understand the law and legal issues as they affect them. Being informed ensures that Kings County seniors may more effectively avoid victimization and thrive within the community in an increasingly secure and comfortable environment."

Daisy J. Dwyer, Board President, Kings County Seniors' Safety Society (KCSSS)
---
LEAVE OUT VIOLENCE (LOVE)          
At LOVE, youth who have experienced violence are trained to become educators about the root causes, effects & alternatives to violent behavior.
Testimonial
"Support from the Law Foundation of Nova Scotia has been highly valuable to LOVE Nova Scotia's programs with 24/7 on-call support. We are thankful for the Foundation's ongoing belief in our work."
Jaime Forsyth, Fund Development Manager and Youth Worker
Leave Out Violence (LOVE)
For more information go to lovenovascotia.ca
---
LEGAL INFORMATION SOCIETY OF NOVA SCOTIA (LISNS)                        
Testimonial
"The support provided by the Law Foundation of Nova Scotia to the Legal Information Society of Nova Scotia ensures that Nova Scotians receive high quality legal information, when they need it, and in the legal help and justice when they need it, and in the form that may best address their needs."
Heather de Berdt Romilly, B.Comm., LL.B., LL.M.,
Executive Director, Legal Information Society of Nova Scotia (LISNS)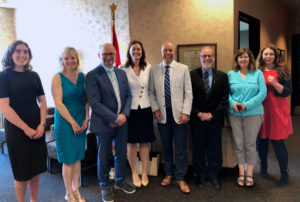 Due to the funding support of the Law Foundation of Nova Scotia, LISNS has been able to increase delivery of core services to Nova Scotians through further resourcing of the legal information line service, livechat and e-mail.  Feedback is very positive – people are pleased with the high quality information being provided through each of the services. LISNS launched a redesigned website which has also received high praise from users who like the clean presentation and report being able to easily find the information.  The redesign strategically invested in updating content across a range of topics that are in frequent demand.
Thanks to the Law Foundation's support, LISNS is on the cutting edge of digital innovation and collaboration with professionals from a range of disciplines to deliver Nova Scotians greater access to justice. LISNS launched a free personal directive app in the Fall 2019 working in partnership with Professor Jocelyn Downie, a respected elderlaw scholar, and a Trudeau Fellow at the Schulich School of Law.  A personal directive is a critical planning tool that allows a person to outline their wishes for healthcare.  A personal directive facilitates the efficient delivery of healthcare and minimizes the stress associated with often difficult and time sensitive situations.  The personal directive app produces a finished document which can be immediately used. This addresses a significant gap area (as the majority of Nova Scotians do not have a personal directive) and LISNS is working with both the IWK Hospital and healthcare facilities towards a full rollout across Nova Scotia.  This initiative directly supports LISNS' Medical Legal Health Partnership with the IWK where LISNS now has a designated space and hosts legal information sessions for staff and families of sick children the second week of every month. These sessions are well attended and receive positive feedback. LISNS also has a successful Estate Planning Legal Health Program with the Nova Scotia Health Authority providing palliative care patients with estate planning documents.
To further promote proactive estate planning, in January 2020 LISNS launched a Seniors' Navigator Project to train seniors to assist other seniors in their communities with making personal directives using the app (in addition to wills and powers of attorney).  LISNS is also relaunching the free wills app by end of March such that it will produce a finished will capable of execution.  This is the first of its kind in Canada and is being adapted by the Government of the Northwest Territories and explored as a model by the Law Foundation of British Columbia.  In April 2020 LISNS is launching the first of its kind in Canada power of attorney app that will also produce a finished document.  LISNS has created a video series to accompany the launch of the apps. These videos will be shown on screens at Service Nova Scotia Access Offices across the Province in addition to other strategic locations.  LISNS is serving land title claimants in Guysborough County to support their estate planning needs. LISNS had a lawyer and team of paralegals travelling to Guysborough in March month to complete wills, power of attorney and health care directives using the free apps.   LISNS continues to provide seniors and disadvantaged families in the Preston Communities with free estate planning documents through legal clinics and the apps are increasingly important tools to help gather information to assist the supporting lawyers.
 LISNS continues its work to assist self-represented individuals attending small claims court assisted by support for this initiative by the Small Claims Court. LISNS' was honoured to have its representing yourself videos developed for the free Small Claims Court App (the first in Canada) embedded in the recently launched by the Courts of Nova Scotia, online Small Claims Court Forms along with the app.  This is a significant recognition of the value of LISNS' work. There continues to be significant positive feedback on the usefulness of the representing yourself videos.
 LISNS has also worked closely with front line community service workers across the Province this past year delivering family law information sessions to all regions of the Province, with rave reviews.  The Nova Scotia Association of Family Resource Centres has been an important partner in this work and there continues to be demand for these sessions as front line community service workers find themselves increasingly being asked to provide information to clients on family law matters.
 LISNS has been awarded a number of prestigious projects which is directly due to its stability for core service delivery only made possible through the Law Foundation's generous support.  Projects include the Sexual Harassment in the Workplace Employee Prevention Project funded by the Federal Government ($2.1 million over 5 years) Investor Protection Project funded by the Law Foundation of Ontario ($100K for one year), and the Seniors' Navigator Project funded by both the Provincial Department of Seniors ($25K) and Federal Government New Horizons for Seniors ($25K).
We are most appreciative of the Law Foundation's support of our work and belief in the importance of Nova Scotians having meaningful access to justice. For more information go to www.legalinfo.org
---
MAINLINE NEEDLE EXCHANGE       
Testimonial
"I've been at Mainline since day one, May 2, 1992 and never could we have been able to employ staff and provide services to those who are in dire need without support from the Law Foundation. I truly believe we experience much success from our projects due to the critical funding we get from the Law Foundation of Nova Scotia. Many of our staff have criminal records and couldn't get employment elsewhere, although it's that exact experience and skill set that makes Mainline the excellent program it is. With sincere gratitude we thank you Law Foundation of Nova Scotia. "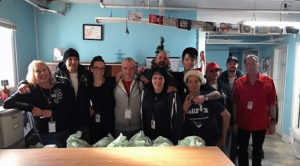 Diane Bailey, Program Director
Community Based Legal Support and Education Project, Mainline Needle Exchange
For more information go to mainlineneedleexchange.ca/
---
REACHABILITY                                                                                     
"There are many barriers to accessing legal support and resources, especially for traditionally marginalized populations," says Amanda Grinter, the ODE Coordinator for reachAbility. "Embracing inclusion and taking action toward equitable legal services ensures that all our citizens have the opportunity to congruent and just treatment." ODE, or, Opening Doors for Everyone represents Nova Scotia's commitment to become a more inclusive province by 2030.
Patrick Vincent, Legal Support Services and Tova Sherman, Executive Director, reachAbility Association
Testimonial
"reachAbility is an organization dedicated to equalizing the playing field for people facing barriers. We thank the Law Foundation of Nova Scotia for their support which helps us to equalize the playing field for Nova Scotians in the legal system."
For more information please visit www.reachability.org
---
STEPPING STONE
Testimonial
"Stepping Stone's Tipping the Scales program headed by Linda Grandy provides current and former sex workers who have come into contact with the Criminal Justice System with direct support and assistance in navigating the legal system and related justice environment. The Law Foundation grant is the main support for this critical service – thank you!"
Alex MacDonnell, Executive Director, Stepping Stone – Tipping the Scales
Client Testimonial: "It's because of this program at Stepping Stone and people like Linda that I have a second chance." – Anonymous client
For more information go to steppingstonens.ca